Predictive Healthcare Speaker Series
Sharing lessons and perspectives on successfully implementing and integrating predictive healthcare solutions
As interest in applying the tools of data science to clinical and operational healthcare problems increases, the success of the solutions will depend on much more than the performance of a particular algorithm.
The Penn Medicine Predictive Healthcare speaker series aims to bring together a wide array of players from across the institution who have a stake in the successful operationalization of data science solutions in health care. The topics will encompass separate disciplines that come together to deliver these solutions, including:
Computer science
AI/machine learning
Human factors and human computer interaction
Real-time and big data architectures
Process improvement
Clinical/medical research
We hope that this speaker series and discussion forum will foster collaboration and an exchange of ideas to deliver effective predictive solutions in healthcare.
Check back here for more information on upcoming events.
Speaker/Topic Suggestions? Email Us
---
System Pulse: Enabling a Learning Health System in the Heart and Vascular Service Line
Jan 28th, 2022, 12:00-1:00pm Add to Calendar
Speakers
Nimesh Desai, MD, PhD Director, Thoracic Aortic Surgery Research Program, Associate Professor of Surgery at the Hospital of the University of Pennsylvania
Stephanie Ottemiller MSN RN CSSGB Associate Director of Clinical Outcomes at Penn Medicine
Thaibinh Luong, PhD Senior Data Scientist, Predictive Healthcare, Penn Medicine
Abstract
The Heart and Vascular Service Line (HVSL) is moving towards managing quality of care with a Learning Health System (LHS) framework. Currently, the HVSL obtains quality metrics that are more than six months old and are not specific to Penn Medicine care. The lack of access to this information in a timely manner limits the impact of quality improvement, research, innovation, and publishing, affecting care for patients and HVSL program evaluations.
A key piece of the Learning Health System framework is a process and tool to identify unexpected patient outcomes based on patient characteristics and clinical care. With the pilot project in Cardiac Surgery, dubbed System Pulse, risk-adjusted patient outcomes are visualized to identify statistically significant trends, and quality metrics are derived 6-to-12-months sooner than report releases. Dr. Nimesh Desai will detail the design and methods that were used to develop System Pulse.
Location
---
Leveraging Electronic Health Records to Improve Disease Diagnosis: Study Design and Analysis Considerations
Dec 17th, 2021, 11:00-12:00pm Add to Calendar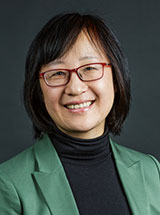 Speaker
Jinbo Chen, Ph.D., Professor of Biostatistics; Director, Statistical Center for Translational Research in Medicine; Department of Biostatistics, Epidemiology & Informatics, University of Pennsylvania Perelman School of Medicine
Abstract
In the context of several predictive healthcare projects based on Penn medicine EHR, Dr. Chen will highlight challenges in using EHR data for research towards improved disease diagnosis and clinical decision making, including EHR phenotyping, data under-reporting, data incompleteness, and data drifting. Dr. Chen will discuss study designs and statistical methods that they have developed to address these challenges.
Location
---
Melding Digital Twin and Live Experimentation to Optimize ED Staffing Alignment
March 26th, 2021, 12:00-1:00pm Add to Calendar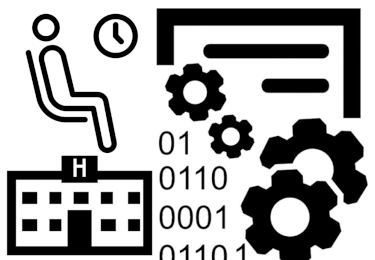 The ability to dynamically optimize staffing is crucial to an efficient Emergency Department; the COVID19 pandemic has highlighted even more clearly the need for agile responses to rapidly changing circumstances. We will present a digital simulation that enables ED Operations Leadership to model multiple variables rapidly and predict changes to key ED metrics based on variations in productivity and throughput.
Speakers/Discussion
Keith C. Hemmert, MD Medical Director, Department of Emergency Medicine
Asaf Hanish, MPH Senior Data Scientist, Predictive Healthcare
Vincent Collins Data Analyst, Patient Care & Clinical Productivity, Department of Emergency Medicine
Susan Harkness Regli, PhD Human Factors Scientist
Hisham Valiuddin, DO Emergency Medicine NPR Medical Providers
Ben Sun, MD, MPP Chair, Department of Emergency Medicine
Location
---
Successful integration of deep learning into clinical care at Duke to improve sepsis care: an interdisciplinary discussion
November 12th, 2020, 12:00-1:00pm Add to Calendar
Speakers
Dr. Cara O'Brien: Associate Vice Chair for Inpatient Medicine for the Department of Internal Medicine; Hospitalist leader who has led the sepsis implementation and sepsis QI work for many years
Dustin Tart: Nurse lead of the patient response program; rapid response team nurse who manages the team that uses Sepsis Watch
Michael Gao: Senior data scientist at the Duke Institute for Health Innovation (DIHI) who built and implemented the model
Marshall Nichols: Senior data engineer at DIHI who built and manages the infrastructure upon which the model runs
Moderators:
Suresh Balu: Associate Dean for Innovation and Partnership for the School of Medicine and as Program Director for DIHI
Mark Sendak MD, MPP: Population Health & Data Science Lead at DIHI
Location
---
Predictive Healthcare Speaker Series - Jon Pomeroy
Title: Physician Insight on Predictive Models
Speaker
Jon Pomeroy, DO, MSHI, Senior Provider Clinical Application Analyst
Dr. Pomeroy will discuss the physician perspective on what it takes to make a predictive healthcare project operationally successful.
Location
Flyers/76ers Surgery Theatre
February 28th, 2020, 11:00-12:00pm
---
Inaugural Predictive Healthcare Speaker Series Talk
Title: Precision palliative care: Leveraging big data to improve serious illness care
Speaker
Katherine Courtright, MD, Assistant Professor of Medicine
Dr. Courtright will discuss the development and implementation of Palliative-Connect, a predictive healthcare initiative to improve patient access to specialty palliative care services.
With introduction from Dr. Bill Hanson, CMIO.
Location
Flyers/76ers Surgery Theatre
November 8th, 2019, 12:00-1:00pm